About the College of Education
Grand Canyon University's (GCU) College of Education provides you with essential knowledge and in-demand skills required for the challenging, diverse classrooms and district initiatives of 21stcentury education. All teaching and education degrees align with national and Arizona Department of Education accrediting standards. Whether you dream of earning a teaching degree in early childhood education, special education or secondary education, you can gain the knowledge, skills and confidence needed to achieve excellence as a teacher or administrator. Learn more about our college, including available degrees and program locations.
College of Education Mission
The College of Education (COE) inspires excellence in pedagogy and scholarship; advances reflective, innovative and collaborative teaching practices to maximize student learning and achievement; promotes servant leadership in educational communities; and engages a diverse and global community of learners with purpose and passion.
As a Christian university, GCU and the College of Education take a proactive approach to developing students' servant leadership skills and ensuring the success of our alumni in educational settings. While the college's accredited programs are designed to prepare and equip students for a career in the field of education, we (faculty, staff and college leaders) understand the unique opportunities and challenges a career in education might present. We promise to assist all COE graduates who need additional support or who are experiencing challenges in an educational setting; and since 1984, we have upheld this promise. Support might include content-area teaching materials, certification testing resources, course curriculum assistance or faculty mentoring. Email the COE at [email protected]. To honor this promise, the College of Education asks graduates to pledge to uphold a high level of excellence in their educational setting.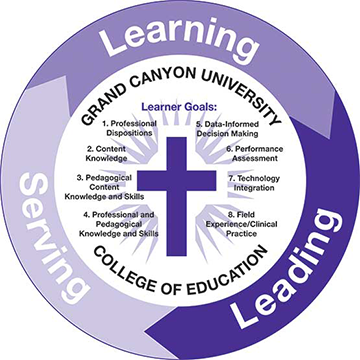 Cultivating Opportunities for Equity
As educators dedicated to learning, leading and serving, we are committed to promoting opportunities for equity. Join us in our effort to find practical and tangible ways to affirm and advocate for equity for all our students and families.
Vision
Celebrating equity and inclusion for all.
Mission
To promote equity and inclusion in teaching and learning.
Resources for Diversity
Clicking on any of the links below will provide a new resource guide to promote diversity and inclusivity in the classroom. Below are resources to enhance your curriculum, teaching style and professional development advocate equity for your classroom.
This is what the Lord Almighty said: "Administer true justice; show mercy and compassion to one another. Do not oppress the widow or the fatherless, the alien or the poor. In your hearts do not think evil of each other." - Zechariah 7:9-10
"The eyes of the Lord are on the righteous and his ears are attentive to their cry; the face of the Lord is against those who do evil, to cut off the memory of them from the earth. The righteous cry out, and the Lord hears them; He delivers them from all their troubles. The Lord is close to the brokenhearted and saves those who are crushed in spirit." - Psalms 34:15-18
"He who oppresses the poor shows contempt for their maker, but whoever is kind to the needy honors God." - Proverbs 14:31
"The Spirit of the Lord is on me, because He has anointed me to preach good news to the poor. He has sent me to proclaim freedom for the prisoners and recovery of sight for the blind, to release the oppressed, to proclaim the year of the Lord's favor." - Luke 4:18-19
This is what the Lord says: "Do what is just and right. Rescue from the hand of the oppressor the one who has been robbed. Do no wrong or violence to the foreigner, the fatherless or the widow, and do not shed innocent blood in this place." - Jeremiah 22:3
"Truly, I tell you, whatever you did for one of the least of these brothers and sisters of mine, you did for me." - Matthew 25:40
"Learn to do right; seek justice. Defend the oppressed. Take up the cause of the fatherless; plead the case of the widow." - Isaiah 1:17
"If you spend yourselves on behalf of the hungry and satisfy the needs of the oppressed, then your light will rise in the darkness and your night will become like the noonday." - Isaiah 58:10
"Start children off on the way they should go, and even when they are old they will not turn from it." - Proverbs 22:6
"A righteous man knows the rights of the poor; a wicked man does not understand such knowledge." - Proverbs 29:7
"My brothers and sisters, believers in our glorious Lord Jesus Christ, must not show favoritism. Suppose a man comes into your meeting wearing a gold ring and fine clothes and a poor man in filthy old clothes also comes in. If you show special attention to the man wearing fine clothes and say, 'Here's a good seat for you,' but say to the poor man, 'You stand there' or 'Sit on the floor by my feet,' have you not discriminated among yourselves and become judges with evil thoughts?" - James 2:1-4, NIV
"We love because He first loved us. If anyone says, 'I love God,' and hates his brother, he is a liar; for he who does not love his brother whom he has seen cannot love God whom he has not seen. And this commandment we have from Him: whoever loves God must also love his brother." - 1 John 4:19-21
A place of thoughtfulness and creativity to bring awareness and appreciation of diversity, by the COE Diversity Task Force.
Arizona Teaching Intern Program
The Arizona Teaching Intern Program is an alternative pathway to teacher licensure that is designed for students who have secured a contract with a district in a high-needs area and who are currently enrolled in one of the following master's degree (IR) programs:
To be eligible, you must have:
An official transcript showing a bachelor's degree from an accredited institution
Official passing AEPA/NES subject knowledge exam scores
A current AZ IVP Fingerprint Clearance Card
A full-time contracted teaching position in an area that meets the requirements for the Arizona Teaching Intern program
If you would like to request additional information or determine eligibility, or if you have questions regarding this program, contact us at [email protected]. For resources and more information, please visit the Student Success Center.
---
Educational Resources
Knowledge in the field of education is expanded when we have information at our fingertips. Clicking on any of the links below will open up the world of education to you. Here, you can probe state and federal departments of education; investigate education career prospects; quick link to professional and content standard organizations; and discover professional development opportunities. Happy exploring!
Prior to your participation in any practicum or field experience at GCU, you must submit a copy of an official Arizona Fingerprint Clearance Card or the official results of your federal fingerprint background clearance from the Department of Public Safety or a comparable agency in your state of residence.
This documentation should be sent to a field experience counselor for your state. If you are seeking Institutional Recommendation in Arizona for a teaching or administrative credential, you must have both an Arizona Fingerprint Clearance Card and fingerprint or background clearance documentation from your state of residence.
A practicum or field experience is an exciting learning opportunity that affords you the chance to observe and participate in diverse educational settings, and to apply the theories and concepts learned in program coursework. Faced with the challenge to meet the needs of K-12 students in low performing schools and the national movement toward 21st century learning built around standards, a practicum or field experience affords you the unique opportunity for introspection, personal change, professional growth and self-assessment, all of which empower a sense of development as a professional. The opportunity to work in a practical setting within the field, coupled with supportive guidance from a GCU instructor, provides you with a strong sense of professional self-reflection.
For resources related to your practicum/field experience, visit the Student Success Center.
Next to the teacher in the classroom, there is no person more important to the success of a school and the students enrolled at that school than the principal or school leader. Research and literature continue to show that the principal is critical to creating and sustaining a school climate and culture that is conducive to both student learning and quality teaching.
This program of study has been designed to present you with a comprehensive continuum of learning opportunities based on current research findings, expert literature and proven best-practices that are based on the ISLLC 2008 Leadership Standards and Functions. The need to prepare school leadership capable of bringing about change designed to improve student achievement is paramount to the continued success of the American educational system in the 21st century.
For resources related to your practicum/field experience, visit the Student Success Center.
Grand Canyon University is seeking initial institutional approval from the California Commission on Teacher Credentialing (CTC) for California-specific versions of the Elementary and Special Education programs currently being designed by the College of Education. Interested parties are invited to submit comments that may help to inform the Commission of substantive issues regarding Grand Canyon University. Comments should be submitted to the Commission at [email protected]. Please note that comments should specify that party's relationship to the institution (i.e., graduation, present or former faculty member, etc.). All identifying information will remain confidential.
---