Strategic Educational Alliances
At Grand Canyon University (GCU), we recognize the challenges organizations face in developing and retaining a quality workforce. Strategic Educational Alliances (SEA) was developed to support public, private and charter schools in addition to alternative educational establishments such as independent agencies and home schools throughout the State of Arizona and the country. SEA programs have allowed us to connect with numerous schools and districts and offer our support by way of professional development, motivational speakers, consultations, coaching and mentoring.
Within the SEA department, our goal is to provide you with resources that enhance the educational environment. In collaboration with our corporate alliances, leaders and staff of your organization receive access to GCU's regionally accredited degree programs and learning resources to help them attain the competitive skills needed to maximize their potential. To meet broader goals in scholastic achievement, we offer non-exclusive, unrecompensed programs and educational opportunities. Service and support are extended in the form of degree discounts, interactive workshops, STEM events, dual enrollment and more. Our SEA programs are constantly evolving as we strive to discover new ways to best serve your needs. Find out more about educational alliances at GCU. 
Upcoming Events
SEA hosts events throughout the year to serve and support K-12 administrators, teachers, students and parents. Opportunities abound to learn, connect with others and engage through various programs.
Family Engagement
Connect with the Family Engagement community! Find out about upcoming family-oriented educational and athletic events, and learn how you and your entire family can get involved and benefit from these free or low-cost events.
Dual enrollment provides high school students with an affordable and efficient opportunity to earn college credits. Dual enrollment students receive the same quality instruction and academic rigor as GCU's traditional students.
If you are enrolled in dual enrollment classes, check out this video to find out how to pay for your classes online. You can also work with your student services counselor for more information.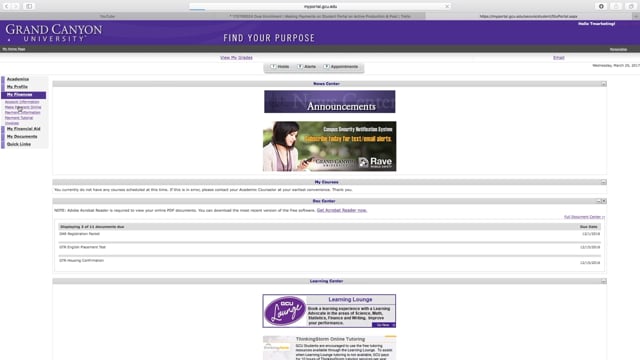 CCSC Service Commitment
Congratulations on earning a Canyon Christian Schools Consortium (CCSC) Academic Scholarship! With CCSC, Grand Canyon University (GCU) has established a partnership dedicated to enhancing the Christian educational experience of all parties involved, most importantly you.
As a CCSC Academic Scholarship recipient, you are required to participate in on-campus service activities each year. Many of the service opportunities are offered on more than just a single date and run throughout the semester. There will be a variety of opportunities offered from helping keep our campus clean to welcoming guests to events at GCU Arena.
In order to receive credit for volunteering, students entering the university after 2014 must sign up and complete your hours at the designated location on campus. You will be contacted via email before the start of school with the on-campus service opportunities. We will also have a CCSC orientation for all students at the beginning of the fall semester where we will explain the different opportunities as well as answer questions.
Local Outreach Service
If you would like to volunteer for the following events, you must first stop by the Department of Spiritual Life to pick up your orientation materials and complete a background check. Learn more about these opportunities at the Department of Spiritual Life.
Canyon Kids
Changing Lives Center
Serrano Kids
Mondays, Tuesdays and Thursdays
2:45 - 4:15 pm
Cactus Wren Elementary School 
9650 N. 39th Ave. 
Phoenix, AZ 85051
Contact:
Tamara Tadano 
602-359-9681 
[email protected]
Preliminary background check required.
More information coming soon!
Contact:
Jennifer Girl
602-639-7711
More information coming soon!
Contact:
Jennifer Girl
602-639-7711
Multiple dates available.
3603 N. 7th Ave.
Phoenix, AZ 85013
Contact:
Chelsea LaBarge
602-234-1935
[email protected]
More information coming soon!
Monday - Friday
4:00 - 6:30 pm
420 W. Watkins Road
Phoenix, AZ 85003
Contact:
Fernanado Yrena
602-850-6705
[email protected]
Multiple dates available.
Contact:
Janine Skinner
480-201-3901
[email protected]
** Yellow FMSC volunteer must include student name, student number and supervisor signature. Blank FMSC forms will not be accepted.
Sundays and Wednesdays at 9 am.
3100 W. Camelback Road
Phoenix, AZ 85017
Contact:
Pam Hill
602-242-6104
[email protected]
Wednesdays at 6:30 pm 
Saturdays at 5:00 pm
Sundays at 9:00 am and 10:45 am
13613 N. Cave Creek Rd.
Phoenix, AZ 85022
Contact:
Dillan Henegar
602-867-7117
[email protected]
Sign up for the required preliminary background check.
Saturday, March 19, 2016
Contact:
Sussely Morales
602-639-6417