Your safety, and the safety of all students, faculty, staff and guests at our campus and satellite locations, is a top priority. Grand Canyon University (GCU) takes steps to protect you, all visitors and our properties—campus, residential halls, satellite locations and arena—24 hours a day.
Our Department of Public Safety has established policies to maximize your safety by:
Restricting parking access and issuing identifying decals for all cars parked on campus
Controlling access points to campus
Offering an Incident Awareness System with access to resources to help you recognize and respond to a potential security event
Increasing security measures at all major events to include monitoring parking, bag searches, use of metal detectors and other resources as needed
Establishing a campus patrolled by a sworn police department
AlertGCU
AlertGCU is used to communicate time-sensitive information during an emergency to the campus community. Get the latest information from Public Safety about what is going on around campus and in our local neighborhood.
Contact Information
In the event of an emergency, call 911.
For assistance while at a GCU location, call 602-639-8100 from any phone.
For non-emergency, general questions and more information email the GCU Police Department at [email protected].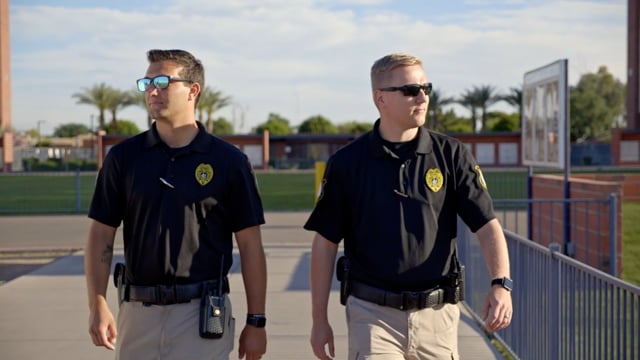 Surviving an Active Shooter
Prepare yourself to survive an active shooting event by watching the FBI-sponsored video "RUN. HIDE. FIGHT. ® Surviving an Active Shooting Event."
Video Copyright © 2012 City of Houston.
File a Missing Person's Report
If you believe a student, faculty or staff member or visitor has gone missing from campus, call the Department of Public Safety at 602-639-8100.
Lost and Found
Get details about reporting or claiming items by visiting the Department of Public Safety on the first floor of the Grove Parking Garage or calling us at 602-639-8100.
Public Safety Measures
GCU prioritizes your safety, as well as the safety of all students, faculty and staff. To help promote a thriving GCU campus community, the Department of Public Safety has instituted safety measures and guidelines that help to keep our campus secure.
Wellness Check
GCU wants to ensure our students' safety by having a process in place to intervene if someone is trying to harm themselves. If you suspect a student may try to harm themselves, contact [email protected]
GCU has a Zero Tolerance Policy as it relates to violations of university policies and the law. Arizona laws, specifically regarding marijuana use, are stricter than many states. Students, faculty and staff are expected to be knowledgeable of the laws.
Active Threats Training
Led by instructor Police Officer Steven Blasko, participants learn various defensive tactics to protect themselves from an attacker. For more information, contact [email protected].
Fire Safety and Education for College Students
Know the risk factors for fires, as well as university and student responsibilities for fire safety. For more information about fire safety on campus, take a look at the FEMA Campus Fire Safety brochure. 
GCU Police Department
GCU's certified police officers receive the same training as officers from city or county police agencies in Arizona, including background checks, polygraphs, psychological evaluations, physical tests and proficiency tests on firearms, Arizona laws and other procedural matters.
Annual Fire Safety Report
The Higher Learning Commission requires colleges that have on-campus student living facilities to publish an annual report about fire protection measures and results. Review GCU's report. 
Annual Security Report
GCU's Department of Public Safety publishes this report to inform the community about campus security policies and initiatives to prevent and respond to crime on campus. Read our Annual Security Report. 
Title IX
GCU prohibits sex-based discrimination and harassment by full compliance with Title IX. Learn about GCU's commitment to maintaining an academic environment where members of the GCU community can fully access and benefit from the University's programs and activities.
Safety Tips
Public Safety wants members of the GCU community to understand the importance of taking safety precautions both on and off campus.
Be aware of your surroundings.
Walk with friends.
At night, walk in well-lit paths.
Carry a charged cell phone and keep Public Safety's number stored as a contact (602-639-8100).
Learn the locations of the emergency blue light phones on campus, and use the blue light phone to signal distress or other safety concern.
If you have a safety concern, you can contact Public Safety to request a safety escort.