About the College of Education
Grand Canyon University's (GCU) College of Education provides you with essential knowledge and in-demand skills required for the challenging, diverse classrooms and district initiatives of 21st-century education. All teaching and education degrees align with national and Arizona Department of Education accrediting standards.
Whether you dream of earning a teaching degree in early childhood education, special education or secondary education, you can gain the knowledge, skills and confidence needed to achieve excellence as a teacher or administrator. Learn more about our college, including available degrees and program locations.
College of Education Mission and Pledge
The College of Education (COE) inspires excellence in pedagogy and scholarship; advances reflective, innovative and collaborative teaching practices to maximize student learning and achievement; promotes servant leadership in educational communities; and engages a diverse and global community of learners with purpose and passion.
College of Education Mission and Pledge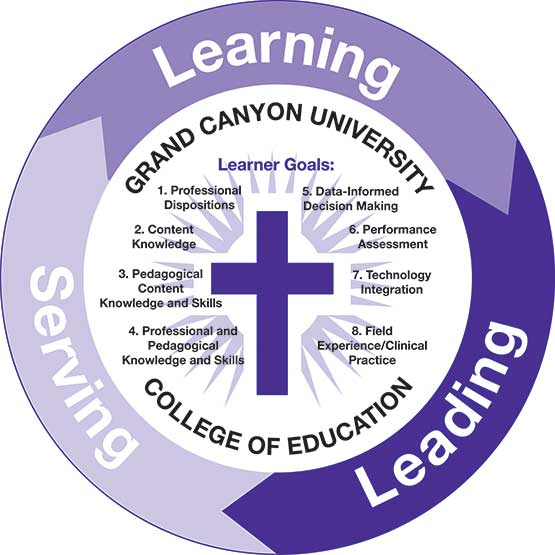 As a Grand Canyon University College of Education teacher candidate/teacher/educator, I pledge to:
Enter my class as a professional educator, fully prepared every day.
Maximize learning for all students, inspiring them to achieve at their highest potential.
Approach teaching and learning for all students with the heart of a servant leader.
Be a culturally responsive educator, engaging with and advocating for social justice, and supporting each student and their unique learning needs.
Model personal integrity, professional ethics, collaboration and excellence for all.
Be a lifelong learner to advance my commitment as a professional educator.
This pledge is made to affirm my commitment and devotion to learning, leading and serving.
Teaching in Purple
Get timely information on current events in education and insightful monthly topics from the College of Education's blog, Teaching in Purple. Our blog features posts from students, staff, faculty and guest writers to give a variety of insights into the world of education.
---
College of Education Promise
GCU and the College of Education promise assistance to any graduates of our teacher and principal preparation programs who are experiencing difficulty in their first year of teaching or leading. Believing in the excellence of our programs, we will provide assistance to any graduate recommended by GCU for teaching or principal certification.
In 1984, GCU and the College of Education began offering graduates of our licensure programs assistance when needed at no expense to the school district or to the teacher/principal graduate. The need for assistance may be requested by the GCU graduate, the principal or the superintendent. The appropriate assistance will be determined by the College of Education and can range from the graduate taking a refresher course in the area of difficulty to receiving mentoring by faculty who will coach in such areas as curriculum planning and design, classroom and time management, content presentation and individualized instruction.
To submit a request or for questions about the College of Education Promise, email us at [email protected].
---
Cultivating Opportunities for Equity
As educators dedicated to learning, leading and serving, we are committed to promoting opportunities for equity. Join us in our effort to find practical and tangible ways to affirm and advocate for equity for all our students and families.
Vision
To enable learning, leading and serving through civil discourse, sharing resources, facilitating outlets and advocating for and celebrating diverse populations.
Mission
Our mission is to advance our faculty, staff and students' commitment to celebrate, advocate and to promote equity for diverse populations in teaching and learning.
This is what the Lord Almighty said: "Administer true justice; show mercy and compassion to one another. Do not oppress the widow or the fatherless, the alien or the poor. In your hearts do not think evil of each other." - Zechariah 7:9-10
"The eyes of the Lord are on the righteous and his ears are attentive to their cry; the face of the Lord is against those who do evil, to cut off the memory of them from the earth. The righteous cry out, and the Lord hears them; He delivers them from all their troubles. The Lord is close to the brokenhearted and saves those who are crushed in spirit." - Psalms 34:15-18
"He who oppresses the poor shows contempt for their maker, but whoever is kind to the needy honors God." - Proverbs 14:31
"The Spirit of the Lord is on me, because He has anointed me to preach good news to the poor. He has sent me to proclaim freedom for the prisoners and recovery of sight for the blind, to release the oppressed, to proclaim the year of the Lord's favor." - Luke 4:18-19
This is what the Lord says: "Do what is just and right. Rescue from the hand of the oppressor the one who has been robbed. Do no wrong or violence to the foreigner, the fatherless or the widow, and do not shed innocent blood in this place." - Jeremiah 22:3
"Truly, I tell you, whatever you did for one of the least of these brothers and sisters of mine, you did for me." - Matthew 25:40
"Learn to do right; seek justice. Defend the oppressed. Take up the cause of the fatherless; plead the case of the widow." - Isaiah 1:17
"If you spend yourselves on behalf of the hungry and satisfy the needs of the oppressed, then your light will rise in the darkness and your night will become like the noonday." - Isaiah 58:10
"Start children off on the way they should go, and even when they are old they will not turn from it." - Proverbs 22:6
"A righteous man knows the rights of the poor; a wicked man does not understand such knowledge." - Proverbs 29:7
"My brothers and sisters, believers in our glorious Lord Jesus Christ, must not show favoritism. Suppose a man comes into your meeting wearing a gold ring and fine clothes and a poor man in filthy old clothes also comes in. If you show special attention to the man wearing fine clothes and say, 'Here's a good seat for you,' but say to the poor man, 'You stand there' or 'Sit on the floor by my feet,' have you not discriminated among yourselves and become judges with evil thoughts?" - James 2:1-4, NIV
"We love because He first loved us. If anyone says, 'I love God,' and hates his brother, he is a liar; for he who does not love his brother whom he has seen cannot love God whom he has not seen. And this commandment we have from Him: whoever loves God must also love his brother." - 1 John 4:19-21
A place of thoughtfulness and creativity to bring awareness and appreciation of diversity, by the COE Diversity Task Force.
Servant Educators
GCU's College of Education is dedicated to providing opportunities for candidates to develop professional dispositions while learning, leading and serving their community. The College of Education inspires excellence in pedagogy and scholarship through the development of servant educators.
Kappa Delta Pi International
GCU's Alpha Epsilon Gamma Chapter of Kappa Delta Pi International Honor Society in Education is the premier honor society for people who are preparing for, engaged in or retired from the teaching profession. Discover how the honor society can help you grow in knowledge and professional development.
iteach
The iteach program helps prepare educators for success in the classroom through online learning and in-person mentorship. If you have completed the iteach program, you may be eligible to transfer credit hours towards one of the education degrees at GCU. Find out more about eligible degree programs.
The AZ Teaching Intern Program is an alternative pathway to teacher licensure that is designed for students who have secured a contract with a district in a high-needs area and who are currently enrolled in one of the following master's degree (IR) programs:
To be eligible, you must have:
An official transcript showing a bachelor's degree from an accredited institution
Official passing AEPA/NES subject knowledge exam scores
A current AZ IVP Fingerprint Clearance Card
A full-time contracted teaching position in an area that meets the requirements for the AZ Intern program
If you would like to request additional information or determine eligibility, or if you have questions regarding this program, contact us at [email protected]. For resources and more information, please visit the Student Success Center.
---
Educational Resources
Knowledge in the field of education is expanded when we have information at our fingertips. Clicking on any of the links below will open up the world of education to you. Here, you can probe state and federal departments of education; investigate education career prospects; quick link to professional and content standard organizations; and discover professional development opportunities. Happy exploring!
The College of Education teacher and administrator preparation programs are designed to ensure that you aspire to a set of personal and professional goals that will enable you to be an educator focused on student learning and achievement, as a direct reflection of the college's mission and the above NBPTS policy statement. These eight goals are reflective of standards espoused by state and federal departments of education, professional education organizations and accrediting bodies.
Professional Dispositions of Learners
For GCU College of Education students, these dispositions flow from the university's mission statement. A values-based education emphasizing community, character and citizenship in the context of a Christian worldview seeks to teach, reinforce, support and cause teacher candidates to contemplate certain foundational values which Christianity contends lead to a good life. These normative Christian values are integral to the development, maturity and education of ethical and morally respectable citizens who continue on the path of lifelong learning and service.
For College of Education students, this is manifested in the professional dispositions each carries into the educational community.
Professional Dispositions of Learners
---
Office of Clinical Practice Resources
The purpose of clinical practice experiences is to help prepare innovative, reflective and creative professional educators with high ethical and moral standards who have the understanding, attitude and skills necessary for effective teaching. Through clinical practice, teacher candidates observe and participate in field experiences in diverse educational settings and apply the theories and concepts learned in program coursework. Browse through our resources by visiting the Student Success Center. For more information email us at [email protected].